Un concert long de 639 ans commencé en 2001 en Allemagne continue malgré l'épidémie
L'interprétation d'un morceau d'orgue du compositeur John Cage va se poursuivre jusqu'en 2640. Le 5 septembre, le public a assisté à un changement d'accord, le premier depuis 2013.
Cette année, tous les festivals de musique classique ont été annulés. Mais un concert, dans une église de l'est de l'Allemagne, ne pouvait l'être. Et pour cause : il avait déjà commencé, plus de 18 ans avant que l'épidémie de coronavirus se déclenche… et ne devrait pas se terminer avant 2640.
Le New York Times raconte que le 5 septembre, les spectateurs ont afflué dans la petite église médiévale de Saint-Burchardi, à Halberstadt, à environ 200 kilomètres au sud-ouest de Berlin. Ce jour-là était à marquer d'une pierre blanche : s'y est produit le premier changement de son depuis presque 7 ans, dans le concert le plus long du monde.
John Cage's « Organ²/ASLSP (As Slow as Possible) » has been playing on the organ of a church in Halberstadt, Germany since 2001. (The performance runs until 2640.) This Saturday, the chord that has been held since 2013 will change. https://t.co/m7ITed4U5M pic.twitter.com/QAeP1nbop7

— Matthew Anderson (@MattAndersonNYT) September 2, 2020
Il s'agissait du quatorzième changement d'accord depuis que ce récital d'orgue d'un morceau du compositeur américain John Cage a commencé, le 5 septembre 2001. Ce jour aurait marqué le 89e anniversaire du compositeur américain, décédé en 1992 à l'âge de 79 ans.
Contrairement aux Jeux Olympiques, ou au Forum Économique Mondial de Davos, cet événement ne pouvait être annulé.
Rainer Neugebauer, qui gère la Fondation de l'Orgue John Cage à Halberstadt, l'organisation veillant au bon déroulé du concert, a expliqué à l'assistance que «contrairement aux Jeux Olympiques, ou au Forum Économique Mondial de Davos, cet événement ne pouvait être annulé». «Le changement d'accord devait se faire, il figure sur la partition», a-t-il déclaré à l'assistance.
John Cage a écrit la partition pour la première fois au piano en 1985. L'instruction relative au tempo était la suivante : «Aussi lent que possible». L'orgue se prête à une telle temporalité. Si au piano, le son disparaît une fois que l'on a fini d'appuyer sur une touche, le son produit par un orgue peut durer indéfiniment. Dès lors, que se passe-t-il lorsqu'un organiste meurt ?
La question taraudait des compositeurs, organistes, musicologues et philosophes, dont certains avaient travaillé avec John Cage. Réunis lors d'une conférence en Allemagne en 1998, ces penseurs de la musique au long cours ont accouché d'une idée unique : créer une performance calquée sur la durée de vie d'un orgue.
Le premier orgue à clavier serait né en 1361 à Halberstadt, soit 639 ans avant le tournant du XIXe siècle. Le groupe a ainsi décrété que la performance durerait 639 ans. À l'époque, il fallait déjà être très optimiste pour penser que la performance pourrait durer jusqu'en 2640. En plus d'être coûteux, un tel projet implique qu'une relève s'empare du projet à chaque changement de génération.
Pilotage automatique
Cette perspective semble encore plus improbable aujourd'hui. La crise sanitaire met en lumière la fragilité de l'existence, tandis que grandit la menace du réchauffement climatique. Cet orgue n'est toutefois pas un instrument standard, activé par un clavier. Des tuyaux réglés pour les notes de la partition sont ajoutés ou enlevés au gré de chaque changement de son. Aucun organiste n'est mobilisé : l'instrument fonctionne par pilotage automatique et les pédales activant les tuyaux sont retenues par des sacs de sable.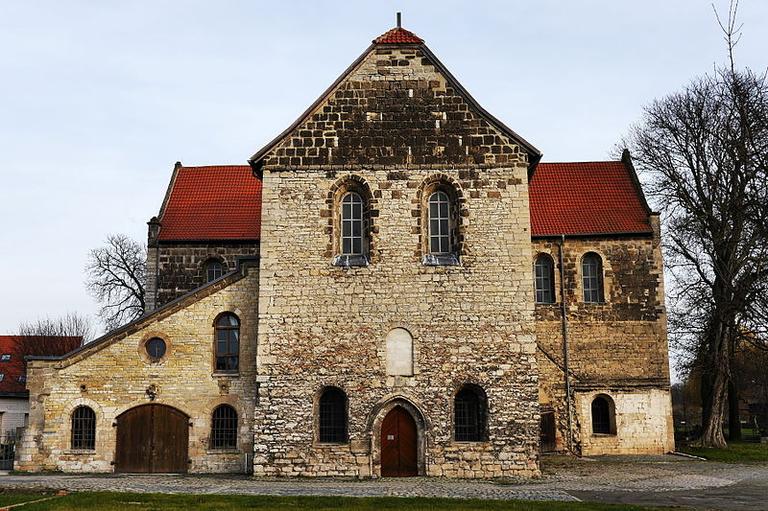 La cérémonie accompagnant chaque changement est devenue un rituel pour les amateurs du morceau. À 15 heures, un compositeur et une soprano portant des gants blancs ont enfoncé les deux nouveaux tuyaux dans l'enceinte de l'orgue, créant ainsi un nouvel accord de sept notes, se joignant aux cinq notes qui résonnent depuis octobre 2013. Selon le compositeur, une «douceur nouvelle» et un son plus dense émanent désormais de l'instrument.
«Des questions philosophiques»
La performance a permis à Halberstadt – dont la population décroît et vieillit – de se faire connaître. Selon Rainer Neugebauer, 140.000 personnes ont ainsi visité la ville depuis le début de la performance. «Ce n'est pas un projet qui attire les foules, explique-t-il. Mais cela constitue un lieu de cristallisation pour l'art contemporain, qui attire des personnes intéressantes à Halberstadt». Selon le maire de la ville, Andres Henke, la performance soulève «des questions philosophiques sur notre rapport au temps».
C'est une sensation unique que de participer à un projet artistique qui liera les générations et durera si longtemps

Andres Henke, maire d'Halberstadt
«C'est une sensation unique que de participer à un projet artistique qui liera les générations et durera si longtemps», poursuit Andres Henke. Il nourrit un «espoir immense» dans le fait que le projet vive jusqu'à 2640. Le facteur risquant de décevoir cet espoir est on ne peut plus prosaïque : le manque d'argent. «Parfois, on dit que ce projet a seulement besoin d'air et de temps, mais il nous faut aussi parler d'argent», rappelle l'édile.
Les coûts de fonctionnement sont assumés presque exclusivement par des donateurs privés, qui peuvent acheter une plaque vissée dans l'église, sur laquelle est inscrite une année lors de laquelle le morceau sera joué.
Les donations en baisse
L'année 2580 a par exemple été choisie par une couple, Silvia et Jörg, souhaitant marquer son 600e anniversaire de mariage. Le Dresdner Kreuzchor, un célèbre chœur de Dresde, a jeté son dévolu sur 2539, pour commémorer ce qui sera le millième anniversaire d'un événement marquant de l'histoire de la réformation protestation. Environ 1 million d'euros ont ainsi été levés, mais récemment, les donations ont fléchi.
Pour Rainer Neugebauer, ce projet fonctionne grâce au bouche-à-oreille, et repose sur des bénévoles, dont lui-même. «Dans trois ans et demi, j'aurai 70 ans, et j'aimerais passer la main. Ce serait formidable de laisser une bonne situation à la génération suivante», anticipe-t-il. Si tout se passe comme prévu, il s'agira de la première passation d'une longue série.
Source : Le Figaro