WhatsApp permet la disparition automatique des photos et des vidéos après affichage- comment ça va marcher
WhatsApp déploie une fonctionnalité qui permet aux utilisateurs de faire disparaître des photos ou des vidéos après les avoir vues.
Une fois que le destinataire a ouvert l'image pour la première fois, la fonction « affichage unique » la supprime, sans l'enregistrer sur son téléphone.
WhatsApp a déclaré que cette fonctionnalité visait à « donner aux utilisateurs encore plus de contrôle sur leur vie privée ».
Cependant, les défenseurs de la protection de l'enfance ont exprimé leur inquiétude quant au fait que les messages en auto-suppression pourraient aider à dissimuler des preuves d'abus sexuels sur des enfants.
La National Society for the Prevention of Cruelty to Children (NSPCC) [une association caritative britannique de protection de l'enfance] est déjà en désaccord avec Facebook, la société mère de WhatsApp, sur l'utilisation de la messagerie cryptée.
Un tel cryptage signifie que la police ne peut pas voir les messages « éphémères » – seuls l'expéditeur et le destinataire le peuvent. Mais la suppression automatique des messages pourrait signifier que les appareils saisis lors de descentes de police ne contiendraient plus de preuves non plus.
Cette fonction « affichage unique » pourrait mettre les enfants encore plus en danger en donnant aux délinquants un autre outil pour éviter la détection et effacer les preuves, alors que les efforts pour combattre les abus sexuels sur les enfants sont déjà entravés par le cryptage de bout en bout », indique Alison Trew, responsable de la sécurité en ligne de l'organisation caritative.
WhatsApp fait la promotion de la fonctionnalité « affichage unique » comme une fonction de confidentialité pour les consommateurs ordinaires, en disant qu'elle pourrait être utilisée pour des photos jetables mais personnelles – en essayant des vêtements dans un magasin et en demandant à un partenaire comment ils sont, par exemple, ou en envoyant un mot de passe à quelqu'un.
Galerie photo allégée ?
« Tout ce que nous partageons n'a pas besoin de devenir un enregistrement numérique permanent.
« Sur de nombreux téléphones, le simple fait de prendre une photo signifie qu'elle occupera pour toujours de l'espace dans votre application d'appareil photo. »
Et elle déploie cette fonctionnalité pour « tout le monde à partir de cette semaine ».
Les utilisateurs sauront qu'un message est en mode « affichage unique » car l'aperçu sera caché et une grande icône « 1 » sera affichée à la place.
À l'instar des messages qui disparaissent sur d'autres applications comme Snapchat, il est toutefois possible pour un utilisateur de faire une capture ou un enregistrement d'écran du message lors de sa première ouverture – ou de filmer un écran avec une autre caméra.
Cette fonctionnalité a également ses limites :
Les photos ne seront pas enregistrées dans l'application 'galerie' du téléphone.
Les médias ne peuvent pas être transférés, enregistrés, partagés ou marqués d'une étoile.
Le message expire s'il n'est pas ouvert dans les deux semaines.
Il efface les messages texte de l'expéditeur et du destinataire au bout de sept jours – et c'est l'un des sujets de préoccupation pour l'introduction d'un recours en justice par le gouvernement britannique.
La loi britannique stipule que les informations relatives aux « discussions ou décisions de fond » doivent être conservées pour les archives historiques.
Plusieurs membres du gouvernement sont connus pour utiliser fréquemment WhatsApp et l'application similaire Signal, ce qui a conduit un cabinet d'avocats militant à accuser les dirigeants politiques de « gouverner par messages texte ».
Le Bureau du Cabinet a déclaré que des « dispositions appropriées » étaient déjà en place pour garantir que les communications officielles soient conservées conformément aux règles.
TikTok teste une fonction de disparition des vidéos stories à la manière de Snapchat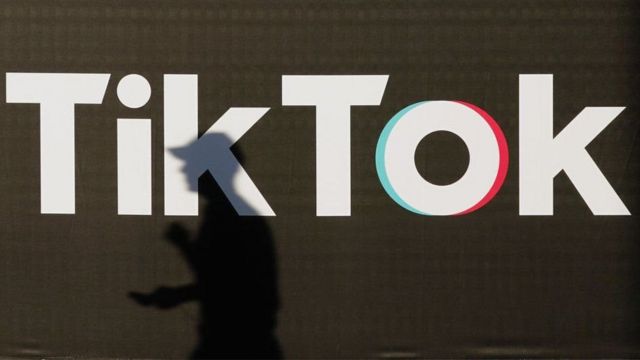 La plateforme de partage de vidéos TikTok teste une nouvelle fonction de vidéos qui disparaissent, semblable aux fonctions de Snapchat, Facebook et Instagram.
TikTok Stories permettra aux utilisateurs de voir le contenu publié par les comptes qu'ils suivent pendant 24 heures avant qu'ils ne soient supprimés.
Cette initiative intervient alors que WhatsApp déploie une fonction permettant aux utilisateurs de publier des photos ou des vidéos qui disparaissent après avoir été vues.
Cette semaine, la plateforme de médias sociaux rivale Twitter a fermé sa fonction d'histoires disparues Fleets.
TikTok, qui appartient à la société chinoise ByteDance, a déclaré à la BBC : « Nous réfléchissons toujours à de nouvelles façons d'apporter de la valeur à notre communauté et d'enrichir l'expérience TikTok ».
« Actuellement, nous expérimentons des moyens de donner aux créateurs des formats supplémentaires pour donner vie à leurs idées créatives pour la communauté TikTok », ajoute le porte-parole.
Source : BBC Afrique